This article is a stub.
It is too short to provide more than rudimentary information about a subject.
You can help Death Stranding Wiki by expanding it.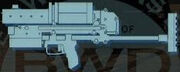 A bola gun is a non-lethal anti-personnel weapon that fires binding wires, or "bolas", to immobilize a target, both human and BT. The weapon is able to hold up to 14 shots.
Description
Edit
Fire binding wires that temporarily immobilize targets within their area of effect. The wires used are in fact strands infused with Sam's blood, so are also effective against BTs.
Use L2 to aim, and hold and release R2 to fire. The length of time for which R2 is held will dictate the distance the wire will travel, along with its horizontal spread. Wires will not bind targets if they hit obstacles first.
Community content is available under
CC-BY-SA
unless otherwise noted.