This article is a stub.
It is too short to provide more than rudimentary information about a subject.
You can help Death Stranding Wiki by expanding it.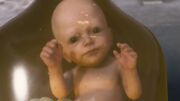 A Bridge baby, also known simply as a BB, is a baby that has been taken from a stillmother to be used by Bridges operatives. A stillmother's womb facilitates a connection between the world of the dead and a Bridge baby, granting Bridges operatives who establish a trance connection with a Bridge baby the ability to sense BTs. Most babies are retired after a year of service.
Bridge babies are kept in portable pods which simulate the conditions of a stillmother's womb, as they will cease to function properly if they feel they are not in such a womb. Periodically, the environmental conditions of a Bridge baby's pod must be updated in a synchronization incubator with data gathered from a stillmother's womb at a given moment.
Every time Sam finishes the preparation in the Private Room and goes out into the outside world and connects to BB, the child's memories flow into Sam making him experience a flashback.
In-universe
Edit
Out-of-universe
Edit
Hideo Kojima has stated that only one individual baby had been shown up until the TGS 2018 teaser trailer, and that it relates to the game's mechanics and story as a whole.[2]
References
Edit
Community content is available under
CC-BY-SA
unless otherwise noted.