This article is a stub.
It is too short to provide more than rudimentary information about a subject.
You can help Death Stranding Wiki by expanding it.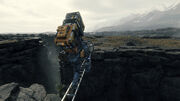 As a Bridges deliveryman, Sam traverses the world of Death Stranding while transporting a manner of cargo, sometimes including even individuals. Carried cargo is wrapped in damage sensor tape; the color of the tape changes according to the integrity level of wrapped cargo. The amount of cargo Sam can carry varies, ranging from a single back load to two handfuls, two shoulder loads and a stacked back load. Sam has several tools at his disposal to overcome environmental obstacles in the world, including climbing anchor and portable ladder.
A Bridges cargo case is included in the Death Stranding Collector's Edition.
Community content is available under
CC-BY-SA
unless otherwise noted.