This article is a stub.
It is too short to provide more than rudimentary information about a subject.
You can help Death Stranding Wiki by expanding it.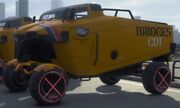 The Cicada MC 2000 is a vehicle model manufactured by Cicada.
The Cicada MC 2000 is a cargo truck based off of the Cicada PHI model designed specifically for divisions of Bridges, including the Corpse Disposal and Special Delivery teams. The Corpse Disposal and Special Delivery variants have a bulky yellow and navy blue frame, respectively, a driver and passenger seat, and a cargo bed meant to hold corpses and deliveries. The suspensions of the vehicle are able to be raised and lowered.
The Cicada MC 2000 has white lights on the back end that indicate how much it is currently carrying. Exact capacity is unknown at this time, but these lights help determine when it is getting full.
A truck will not be overturned by aggressive driving or rough terrain. A truck can cross some deep/red water safely.
While the enclosed bed protects cargo from Timefall, unlike the Cicada PHI trucks used by the MULEs, putting an MC 2000 under a Timefall shelter does not repair cargo, nor can you use Container Repair Spray manually to repair cargo in the bed.
Fabrication of the Cicada MC 2000 is unlocked at the Distribution Center South of Lake Knot City.
Truck
Truck Long Range Lv. 1

280 Metals
256 Ceramics
48 Special Alloys

Truck Long Range Lv. 2

360 Metals
320 Ceramics
144 Special Alloys

Truck Long Range Lv. 3

440 Metals
384 Ceramics
240 Special Alloys

Truck Defensive - damage is absorbed by battery first, instead of durability

240 Metals
224 Ceramics
96 Special Alloys
When damaged during travel or deteriorated by the Timefall, the Cicada MC 2000 can be stored in a garage for repairs.
The color scheme of the Cicada MC 2000 can be changed at any time on the garage. The available color schemes are the following:
Blood red
Bridges Orange
Bright Yellow
Chiral Gold
Cool Blue
Coyote Brown
Desert Pink
Emergency Yellow
Express Purple
Ghost Green
Grass Green
Lightning Blue
Mars Red
Navy Blue
Olive Drab
Omnireflector (Silver)
Prismatic Purple
Rose Pink
Sandy Tan
Signal Green
Snow White
Stealth Black
Volcano Orange
Wolf Gray
Cargo carrying capacity is indicated by fourteen (14) lights on the back of the truck. When empty, no lights will be lit up. When full, all lights will be lit up in red. Total carrying capacity also takes into account any weight attached to Sam's back or body.
All MC2000 models have a max confirmed volume of 28 XL containers (see conversion). The highest confirmed weight so far for all models is 3,360 kg with 28 full XL cases of special alloys weighing 120 kg each. It's not known if there is a maximum weight.
The in-game description for the defensive model states, "Six electromagnetic shield units have been added. This reduces the truck's cargo capacity, but provides a powerful protective field." Despite this, testing has shown that the defensive model can carry the same volume as the other models and at least 3,360 kg. It is not known if the weight cap is lower on the defensive model.
The truck has an alleged maximum capacity of 14 body bags, equating 980 kg of weight. Sam can also get in the driver's seat with an additional body bag on his back totaling 15. Body bag capacity on the defensive model has not been tested.
Community content is available under
CC-BY-SA
unless otherwise noted.