This article is a stub.
It is too short to provide more than rudimentary information about a subject.
You can help Death Stranding Wiki by expanding it.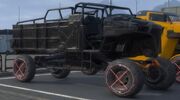 The Cicada PHI is a vehicle model manufactured by Cicada.
The Cicada PHI is a cargo truck model manufactured by Cicada. It's commonly used by Bridges forces, MULEs and Terrorists for transport of cargo and people over rough terrain. The PHI bears a lifted frame for better traversal over land and can be outfitted with armor plating, and tires manufactured by StrandWolf.
The Cicada MC 2000 is a variant of the PHI, based off of its design and structure, designed specifically for the Bridges Corpse Disposal and Special Delivery divisions.
Both MULEs and Terrorists use a custom armored variant of the Cicada PHI, that cannot be fabricated by the player. Sam can drive these vehicles, however.
Community content is available under
CC-BY-SA
unless otherwise noted.