Welcome to Death Stranding Wiki,


the premier resource for all things Death Stranding that anyone can edit!
706 articles since June 2016.
Death Stranding Livestream Event 5/29
About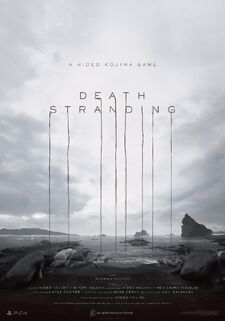 Death Stranding is an action video game developed by Kojima Productions and published by Sony Interactive Entertainment for the PlayStation 4. It is directed by Hideo Kojima – the first game he and his reformed studio have worked on since the disbandment of Kojima Productions as a Konami subsidiary in July 2015. The game was officially announced during Sony's E3 2016 press conference.
Though the game's official release date is currently unannounced, Kojima has stated that, "[Death Stranding] will be out before the Olympics", referencing the Tokyo 2020 Games. Additionally, he has revealed that "there is a movie called Akira, and [Death Stranding] will be out before the year in which Akira is set", with Akira being set in the year 2019. During the TGS 2018 stage panel, Kojima mentioned that the game is still on track to release when planned, which is the year 2019 in which Akira is set. During a podcast with Dan Fogler, Norman Reedus corroborated an early 2019 release.
Featured image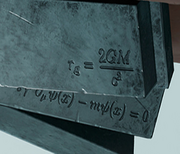 These two prominent physics equations appear in early promotional art of Sam. The Schwarzschild radius (top) relates to general relativity, while the Dirac equation (bottom) relates to quantum mechanics.
Did you know...
... that thus far, several principles of physics have been hinted towards in Death Stranding, including general relativity and quantum mechanics?