This article is a stub.
It is too short to provide more than rudimentary information about a subject.
You can help Death Stranding Wiki by expanding it.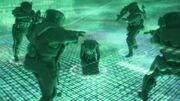 They're extremists like the Demens everywhere. Plotting in the shadows. They're decentralized by nature. No one organization to rule them all. Just a common ideology.
– Die-Hardman
The
Homo Demens
(Latin: "mad man") are a decentralized group of militant separatists. They seek to maintain the independence of
Edge Knot City
, which they run, and thus, are directly opposed to the
United Cities of America
. They are reputed for slaughtering the residents of towns and for engineering
voidouts
.
The suicide attack on Central Knot City is thought to be the work of the Demens.
When Amelie reaches Edge Knot City while on her expedition, the Homo Demens capture her and hold her in the city as an insurance policy against the UCA.
Community content is available under
CC-BY-SA
unless otherwise noted.