This article is a stub.
It is too short to provide more than rudimentary information about a subject.
You can help Death Stranding Wiki by expanding it.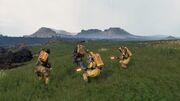 The MULEs, also called Homo gestalts due to their irrational obession with their profession, are a faction of cargo thieves that ambush Sam while he is on deliveries or infiltrating their camps. They suffer from a condition known as porter syndrome and seek primarily to steal the cargo of others. They do not kill, however.
MULEs are fearful of BTs, and following the onset of timefall in their vicinity, they will entirely cease chasing Sam and retreat.
They are equipped with electrified pole weapons, which they use as both melee weapons and ranged throwing weapons, and a sticky gun, which they use to catch others' cargo. Additionally, MULEs carry cargo of their own (some of which have "CERAMIC" or "RESIN" emblazoned on them), and use a three flap odradek variant.
MULEs first appeared in the Death Stranding release date trailer.
In-game, their names are always typified as 'MULE' or the plural 'MULEs' - any acronymic meaning to the name is currently unknown.
If Sam enters a MULE-occupied area while not carrying cargo, he naturally will not be detected by the MULEs' sensors, as their sensors ping off cargo.
Community content is available under
CC-BY-SA
unless otherwise noted.