This article is a stub.
It is too short to provide more than rudimentary information about a subject.
You can help Death Stranding Wiki by expanding it.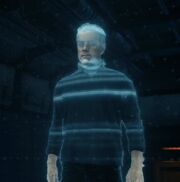 Preppers are characters who live alone or with their families, in isolated bunkers across the continental United Cities whom Sam can make deliveries to. They will appear holographically at their delivery terminals to converse with Sam and will typically not physically come above ground. If Sam takes too long to deliver or delivers damaged goods to a prepper, he will receive fewer likes from them for the delivery. Should Sam make more deliveries to a prepper and become more acquainted with them, they may join the Chiral Network and afterwards give him more items. If a prepper is not willing to join the Chiral Network, Sam may negotiate with them.
Also having more preppers united to the UCA allows constructing more structures that will help in the main story. The easiest way of level up a prepper is delivering him lost cargo additional to the orders that he gave or packages that other bunker facilities have for him. In all bunkers we can find shared and private locker with various items.
Besides, the preppers will give Sam plans for diverse vehicles, weapons, tools and more upgrades that will help to progress in the game making some parts more easy.
After a prepper terminal is connected to the Chiral Network, Sam can use the terminal to organize and print items. Also they provide Sam a room where he can rest.
Preppers are most often not related to the main storyline of Death Stranding.
Certain preppers provide Sam materials to thank for a really good delivery. These materials are various and in a different quantity. This will help to construct structures, weapons and gadgets. The key is always make a perfect delivery. This gifts are given for the lost packages too.
Community content is available under
CC-BY-SA
unless otherwise noted.