This article is a stub.
It is too short to provide more than rudimentary information about a subject.
You can help Death Stranding Wiki by expanding it.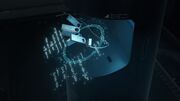 A Q-pid is a necklace that contains a high amount of chiralium, which bears a series of tag-engraved physics equations, containing all of the necessary security and operations protocols to integrate a terminal location into the Chiral Network. All established strand points are accessible to those bearing the required equations.
Sam is given a Q-pid upon undertaking his expedition across America.
List of equations
[
]
Inscribed equations are processed in the following order, and include:
After the above equations are processed, the Schrödinger equation and an equation related to Lagrangian density, along with others, are then additionally loaded and displayed.
Gallery
[
]
External links
[
]