No Man's Sky Update - The Loop
Play Sound
This article is a stub.
It is too short to provide more than rudimentary information about a subject.
You can help Death Stranding Wiki by expanding it.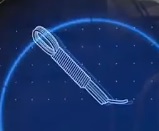 A strand is a non-lethal anti-personnel weapon used by Sam. A cord infused with Sam's blood, it can be used to knock out and deal damage to enemies from a close range. It also serves as his Bridges identification.
The strand is the best weapon to use against Higgs.
Description
Can be used to bind human enemies from behind and parry attacks at close quarters.
Use L2 to ready a strand, and R2 to bind a target.