This article is a stub.
It is too short to provide more than rudimentary information about a subject.
You can help Death Stranding Wiki by expanding it.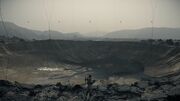 A Voidout is an explosion of varying size triggered by BTs when they meet their live counterpart, which leaves a crater behind at the site of a given person's demise.[1]
The "explosion" of a voidout occurs when the anti-matter of the inner body of a BT interacts with the matter of the normal world. This interaction causes an intense and violent explosion, leaving behind a crater in normal cases big enough to destroy a whole city.
Sam in particular or any Repatriate can return from a voidout, but even in his case, a crater still remains, through smaller than usual.[1]
The first voidout occurred before the Death Stranding, during the experiments on the Bridge Babies. A doctor performing an operation on a brain-dead mother cut the umbilical cord linking her to her baby. The doctor was surprised to see something strange: a Beached Thing. The operation led to the first known voidout in Death Stranding's Universe and caused, among others, the death of the interim president of that time, who was succeeded by Bridget.
The explosion was first presented as a terrorist attack, but no one could identify it clearly; It didn't present any of the characteristics of a conventional blast, nor nuclear one, and unidentified matter was found in and around the crater.
The experiments on BBs were officially cancelled (but continued in secret) by Bridget because of the risk of voidout the experiments could cause.
Voidouts have been responsible for the destruction of multiple cities, including Central Knot City.
References
Edit
Community content is available under
CC-BY-SA
unless otherwise noted.