This article is a stub.
It is too short to provide more than rudimentary information about a subject.
You can help Death Stranding Wiki by expanding it.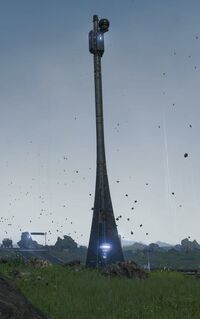 A Watchtower is a structure used to survey the surrounding area to detect Cargo, Cryptobiotes, Chiral crystals, and structures. It is unlocked upon starting Order No. 7: Recovery: Chiral Printer Interface. Watchtowers will consume 250 bandwidth from the Chiral Network.
Watchtowers allow players to survey areas around them, acting as a long-range Odradek, locating BTs and lost cargo. However, the camera mounted at the top of a watchtower can be raised, lowered, zoomed, and can be used to place markers and plan routes.
Watchtowers are created using the PCC. Level 2 allows for customization options while Level 3 increases the structure's durability against Timefall.
150 Chiral crystals
800 Metals
Community content is available under
CC-BY-SA
unless otherwise noted.